Flipped learning has been around a long time, this approach has student's do a pre-reading task or watch a short lecture via video before the class.

This can be done at home or wherever they choose.

The class time is freed up from presenting material to doing activities do reinforce the material already viewed and build on that knowledge.
I am eager to install some flipped classes in our Esthetics program.

One such class would look like this. Students would watch a short video on the theory aspects of sanitation and disinfection. Then class time is used to perform the sanitation procedures using checklists as a formative assessment tool.
In the classroom the students are actively participating in tasks connected to the content delivered via video etc, during these tasks there is greater opportunity for learners to be receiving support from their peers and receiving feedback from the instructor when needed. There must be a safe positive environment established for students to feel comfortable and make personal learning connections.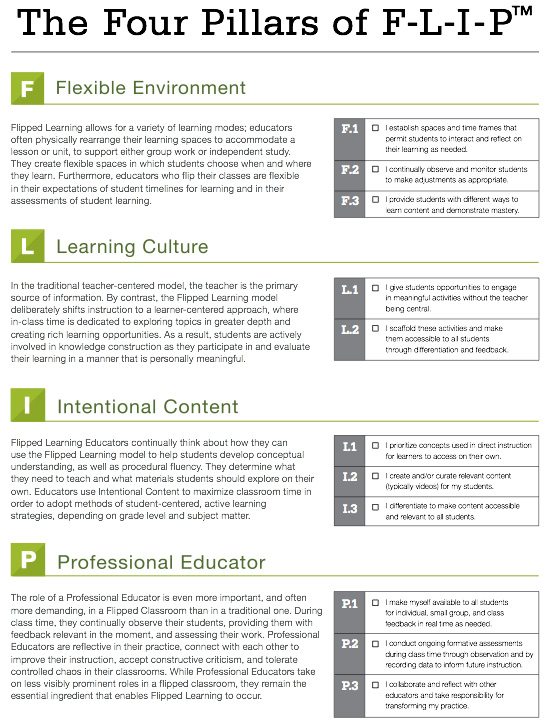 Our PIDP 3250 class brainstormed in class activities and ways to flip a classroom here are the suggestions, Thanks to all who contributed.
Role playing

Homework - "Ask the expert" during class time

Play Jeopardy wit

h terms introduced in the video

Have them critique how well the video

brought

concepts acro

ss

Get them to answer a

questionnaire

about the material
Make a pop quiz at

beginning

of class worth 2%
Go on a field trip to a

relevant

destinations

Have a guest speaker

S

tudents form groups and come up with games

for class

Team based Lear

ning

Immediate feedbvack assessment techniques

Discuss a audio recording or video in class

S

tudents help each other and compare, collaborate, assess and

demonstrate

Working backwards... o

n purpose

Review the

lesson for the next day and come to school to carry out/practi

ce the task/objective
Another great source of in class activities and assessment ideas is here. https://uwaterloo.ca/centre-for-teaching-excellence/teaching-resources/teaching-tips/lecturing-and-presenting/delivery/class-activities-and-assessment-flipped-classroom